LOE Cursive and Manuscript Fonts
Logic of English Handwriting Fonts for Cursive and Manuscript
Logic of English has developed a style of handwriting that is developmentally appropriate for young students and to aid students who struggle with handwriting, and we have had a custom font developed to match our requirements.
Each letter is designed to require a minimal amount of fine-motor skill, with attention to developing rhythmic handwriting.
Cursive Font

Highlights
All lowercase letters begin on the baseline.
Uppercase letters only connect to the next letter if they end on the baseline.
The capital Q has been simplified to reflect the manuscript version.
Letter formation is closely matched to the manuscript font to facilitate ease in transition from one to another.

Why didn't you use a clock face for forming a, c, d, g, o, and q?
Each of these letters rolls up to the midline, a clear stopping point for young students.
Stopping at the midline facilitates better rhythm to the handwriting, as going beyond it to 2 o'clock is less natural for the hand.
Forming perfectly rounded letters is more difficult than forming oval letters. This shape fits more naturally with the slant of the paper and natural movements of the hand.
When writing quickly, most people are not able to maintain the perfectly round letters. This is because the elongated shape of the oval with a stopping point closer to the midline facilitates faster writing.
Using the midline as the stopping point reduces the need to have a shape imposed upon the paper and facilitates more clear directions for instruction without an additional image.
Manuscript Font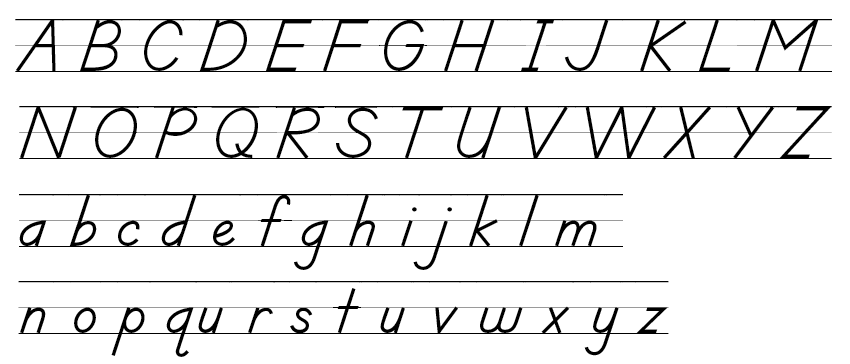 Highlights
Lowercase letters primarily begin on the top line and midline to minimize the number of starting places. The exceptions are b, e, f, h, k, l, and t.
Letters are formed with the minimal amount of picking up of the pencil. Picking up the pencil for strokes requires more fine motor and increased instruction on where to place the pencil before beginning the next stroke.
Letters are slightly slanted, which is the most natural position for writing.
Letter formation is closely matched to the cursive font to facilitate ease in transition from one to another.